Remember this guy?
He played Captain America in The Avengers, I think?
Well, our beloved Secretary of State, John Kerry, has apparently decided that the reason he hasn't returned to the United States from Russia, after leaking volumes of information about seriously unconstitutional and frankly horrifying breaches of the right to privacy on the part of the U. S. government, is not that he doesn't want to be tried for treason and executed, or perhaps not even tried. No, the reason is that he's a wuss, it seems. If it were so, it were a grievous fault, and grievously hath Snowden answered it.
I speak not to disprove
what Kerry spoke
(beginning near the 3 minute mark); he says, among other things, that "He should man up and come back to the United States. If he has a complaint about what's the matter with American surveillance, come back here and stand in our system of justice and make his case."
I'd say he's made his case already, and pretty damn effectively. As for the criticism that he is holed up in Russia -- which, quite true, is an authoritarian country -- I venture to suggest that revoking Snowden's passport was not Snowden's idea, and he claims himself that Russia was not where he had intended to stay. Considering that it is precisely the U. S. state that not only revoked his passport but chose when to do so, I don't think it stretches credulity to suppose that the moment for doing so may have been chosen in order to discredit him.
As for standing in our system of justice, well, let's reflect on that for a moment. Do you remember these three guys? They all have two things in common.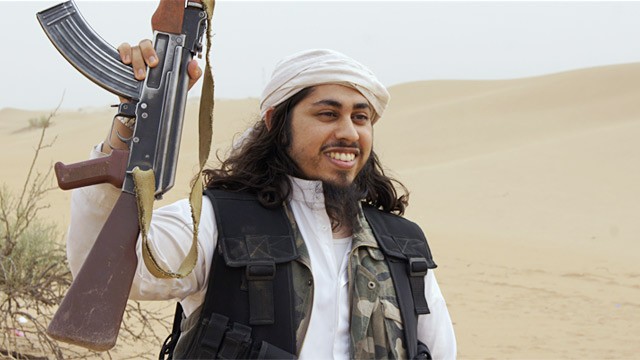 Anwar al-Awlaki and Samir Khan were al-Qaeda agents: the former was one of its most prominent members, particularly after the death of Osama bin Laden, while the latter edited an Islamic militant journal in which al-Awlaki had a hand. Both were killed in a drone strike.
If the third, Abdulrahman al-Awlaki, looks kind of out of place with the other two, don't worry, there's a perfectly satisfying explanation. He was the son of Anwar al-Awlaki. He was also killed in a drone strike, at the age of sixteen, two weeks after his father. His crime? Being in the wrong place at the wrong time. The government avers that his death was unintentional, collateral damage from the targeting of Ibrahim al-Banna, a suspected (though, it seems, so far unconfirmed) member of al-Qaeda, who, for those of you keeping score at home, was not killed in the drone strike that took young Abdulrahman's life.
They were all killed in drone strikes; that's one thing. The other thing they have in common is that they were all American citizens, killed outside of combat and without due process. There is a word for this kind of killing, and that word is "murder."
All American citizens are entitled by law, if accused of any crime, whether the attached penalty is death or not, to a trial by a jury of their peers. That, Mister President and Mister Secretary of State, is what "due process" fucking means. President Obama chose to ignore this, and, with no precedent whatever (not that precedent would make such an act not a war crime), authorized the targeted murder of two Americans; and in fact accomplished the murder of a third as well, who was wholly innocent, recently orphaned of his father by his country, and barely old enough to drive.
With liberty and justice for all. (Some restrictions may apply. May be unavailable in certain areas.)
Given the precedent of detaining and even murdering citizens without trial that has now been established by this administration
, I find it difficult to criticize Snowden for being reluctant to return home, even assuming that Kerry is being quite truthful when he states that he would be permitted to come back in spite of his revoked passport. I haven't a great deal of liking for Kerry, but I would have thought -- or at least hoped -- that someone with his history of anti-war work and his criticisms of government policy in Vietnam would have been, if not less stupid, at least less willing to embarrass himself with such a hypocritical rebuke.
And the defense is what? That these men, living and dead, endangered American lives? Their lives sure were. Also, point of interest: everybody dies. You don't, in any final sense, save American lives by killing American terrorists or anybody else -- you just put it off till a later date. And that does matter. But in view of the fact that everybody dies, whatever else we believe comes after that, we have more reason, not less, to care about justice simply for its own sake: because if death (as I do not believe) is followed by mere nothingness, it can scarcely be held to matter when exactly you hit that point; and if (as I do believe) death is followed by judgment, then you are suddenly going to find yourself caring a very great deal about whether the things you did in life were right or wrong.
Well, turning to ethical grounds, is the defense maybe that they were war criminals? Very probably the
elder
al-Awlaki and Khan were; though not, perhaps, with the certainty with which we can observe that the members of this administration are
war criminals
. The right to trial by jury is not asterisked, any more than the right to privacy. The whole point of our justice system is that
if you have an accusation against someone, you try them, presuming that they are innocent, and then you either damn well prove they aren't or else you let them go
.
(Or if that's taking too long we'll just murder your ass.)
Of course, those three dead men have reached the end of their stories, whatever that end may be. I fear and hope for their souls, and don't claim to know anything at all about their eternal fates. And Snowden is about as stuck as stuck gets: he might be able to come back if there were an amnesty, which doesn't seem likely in the paranoid political climate we enjoy, and if he has to stay in Russia, I fear for him there. Maybe the saddest part of all this, though, to my mind, is the squalid corrosion of the American public's attitude to the state: we saw a sixteen-year-old boy (to say nothing of the others) killed, we watched it reported on national and international news, and we shrugged our collective shoulders and said, "Collateral damage. What can you do." Anyway, that was like five news cycles ago; no one can be expected to remember. So let it be with drone strikes.
Pray for our nation, readers, I urge you. Pray for a revival of conscience, in the leadership, yes, but above all among the people -- which inevitably means, in each individual heart, beginning with one's own. Pray for Edward Snowden, in whatever net of circumstance he may, perhaps, be trapped. And pray for the souls of three dead men: two whose crimes, it may well be, rebounded upon their own heads; and one whose innocence was no protection against the realpolitik of his own people.