Merry Christmas and happy New Year, Mr Ruse. God grant you many graces.
In writing this, I want to begin by invoking the grace and the mercy of Christ, from which and in which and under which we live as Catholic Christians. I would also invoke the prayers of the Mother of God, especially in her character as the Undoer of Knots; my own special patron Saint Gabriel, who first proclaimed the entry of the Word into the limitations of time and place (not the conversion of the Godhead into flesh but the taking of the manhood into God); and, indeed, the prayers of all faithful Christians who read this. I am not advanced enough in love, or humility, for this to be easy to write, and I need all the prayers I can get. And if I might have yours also, Mr Ruse, I would be in your debt.
The way you have been writing about me and my friends is wrong. I do not say this primarily because of your tone; though I would go as far as to say that when fellow Catholic bloggers and activists like Maggie Gallagher, P. E. Gobry, Elizabeth Scalia, and Mark Shea (a man not noted for being mealy-mouthed or timidly nice) all separately take issue with your tone, it is probably worth considering whether the problem really is with the world around you, and examining your conscience. After all,
love is not rude
, and the fruit of the Spirit is, among other things,
kindness, goodness, gentleness, patience, and self-control
.
But as I said, that isn't my chief concern, and for that matter I seem to have been bothered by it a bit less than others have been. My chief concern is that the things you have been saying about us as a group simply aren't true.
I don't want to accuse you of deceit or mendacity. I can concede that our language, for Catholics in this time and place, is rather irregular, and that can be off-putting. (I can even admit that there have been times, reading my own work, when I've thought to myself something along the lines of, Who is this leftist creep? Oh, right.) But the fact remains that you represent us as thinking and saying things that we not only don't, but that many of us have contradicted repeatedly in words of one syllable. It is probably not irrelevant to this to note that, of the six articles you've written for Crisis Magazine over the last year and some dealing with "the New Homophiles" (an appellation that, in a rare instance of unanimity, we all entirely wash our hands of), only the first two actually quote us directly, and even these quotes are not sourced or linked.
You claim that we need to be engaged. Is this your idea of engagement? I'd remind you that, in the early days of last year, you offered to interview me, in response to my complaints of misrepresentation and incomplete information in your articles. When I asked that an interview be published in full, you replied that "your terms are just unrealistic" and that "I'm not sure they [Crisis] are interested in running a Q&A. And I'm not either." Now, I'm not saying that publishing a long interview is an immediately attractive prospect; but when you are willing to charge us with being doctrinally problematic -- something I for one take with the utmost seriousness as a question of personal, intellectual honor -- I feel that it is only justice to give us the opportunity to explain ourselves in full (knowing, not least as Catholics, that a lack of context can result in crucial misunderstandings). Under the circumstances, your professed lack of interest looks more like intellectual irresponsibility than a manly contrast to a politically correct culture. If only for the sake of your own reputation, Mr Ruse, I'd ask you to rethink your approach.
Turning to the specific charges you lay at our feet, there are, to get it out of the way early,
socks
.
Some of my socks, for the record. Though I disclaim responsibility for the hideous couch they're on.
This group insists on their gay identity, indeed they put a spotlight on it. That's kind of the point of their movement. WE ARE GAY AND CATHOLIC. Some go even further and insist on calling themselves "queer." The Church teaches there is no "gay identity." We are children of God -- first, last, and always, and the Church frowns on anything else. Even more dangerous than insisting on a "gay identity" is their implicit support for "coming out." Recent studies have shown that 80 percent of those who as adolescents identified as "gay" are fully heterosexual by their mid-twenties. Studies show that same-sex attraction is remarkably plastic ... The New Homophiles insist that God made them gay, though the Church does not teach that. They insist that they have special gifts given to them through their same-sex attraction. That is certainly not in Church teaching. And they want Church teaching to reflect these assertions, which would amount to a change in Church teaching.
None of what you have said about us in these paragraphs is true. I'd prefer to believe that it is a matter of misunderstanding, but it wants correcting regardless. (As far as the recent studies on sexual fluidity that you mentioned, a link would be greatly appreciated -- not least because, though it may well be true, what you have to say here conflicts with even the most optimistic estimates of ex-gay groups that I've hitherto read, to say nothing of the APA's studies on the subject.)
To begin with, I don't know of a single one of us who insists on the term gay. Most of us do, in fact, use it, and most of us tend not to use phrases such as same-sex attracted; though that is precisely a tendency, not a settled decision. I, and some others, prefer the word chiefly for its communicative value to those outside the Church: same-sex attracted, outside of Catholic circles, has some very ugly baggage from psychiatric experimentation and personal histories of repression and denial. And while gay was a pretty political term twenty years ago and more, it just isn't now. That's not to say that a different word might not become preferable at some later point in time; nothing is more likely. But, in the limitations of our time and place, it seems to me to be the best word, because in the vernacular -- i.e., how the majority of people I've ever met or interacted with have understood gay, as opposed to fellow Catholics, whose language is often different from popular language -- it doesn't carry the implications of advocacy or identity politics that you attribute to it. It just means "a guy who's interested in guys, not girls," and mutatis mutandis of other orientations.
Why does this matter? Because this is one of the biggest areas of misunderstanding between the Church and the surrounding culture right now, and using a word that is confusing or offensive to those outside the Church can cripple her ability to evangelize. It isn't just a question of evangelizing the LGBT community, either, though they should certainly be on our gaydar. Popular sympathy for LGBT-identifying people is sufficiently high that looking like a homophobe, even if you're not one, is frequently enough to lose the hearing even of people who are as straight as an arrow.
Will the word gay call for explanation in these evangelistic contexts I'm supposing? Sure. So will any other word. Because so will Catholic teaching. The advantage of the word gay is that it doesn't alienate the audience.
Now, regarding "the gay identity." Again I would reiterate Mr Gobry's observation that this is chiefly a semantic question. I would speak (and have done) about having a gay identity only in the same sense that I'd speak about having an American identity or a bookworm identity: i.e., it's a part of me in the sense that it's deeply important to my experience and to how I relate to others, but it's not a part of me in some transcendent or ontological sense. I don't know of any traditional queer-identifying Christian who would say otherwise (though of course I can't speak for them all). I regard gay identity, so to call it, as nothing more than a moderately useful concept, and see no reason to relegate it to a special category of either exaltation or rejection.
That is certainly not to say either that other people who happen to be homosexually attracted are obligated to find it an important part of their experience, as I do. Granted, I'd be a little surprised if it weren't that important to them, but that is of no real consequence. Though, as I've said before, I haven't the slightest taste for its approach myself, I imagine that such a person would find Courage very helpful and appealing, and I have nothing to say against that. For even I am not silly enough to believe that my personal dislike of Courage's approach is an objection to it. Quite the contrary -- I am glad that Courage exists, and would be perfectly happy to see it expand; though I would add that I don't think its approach to homosexual attraction is, or ought to be, or could be expected to be, the only way for a Catholic to deal with it. Nor, so far as I can tell, does Courage make any such claim for itself.
Returning to your words above, you repeat here a claim you have been making since the beginning: that we believe there is something spiritually special or even superior about being gay, which you've referred to in the past as "gay exceptionalism and charism." I sincerely haven't got the faintest idea where you get this from. The only source for it that I recall you citing is the playwright Larry Kramer, and I really can't see how he comes into it one way or the other. Certainly we believe that we can meet God in our sexuality in spite of, and even in a sense by means of, its imperfection; but that notion is as old, and as unexceptional, as the Cross. O felix culpa, "O happy fault ..."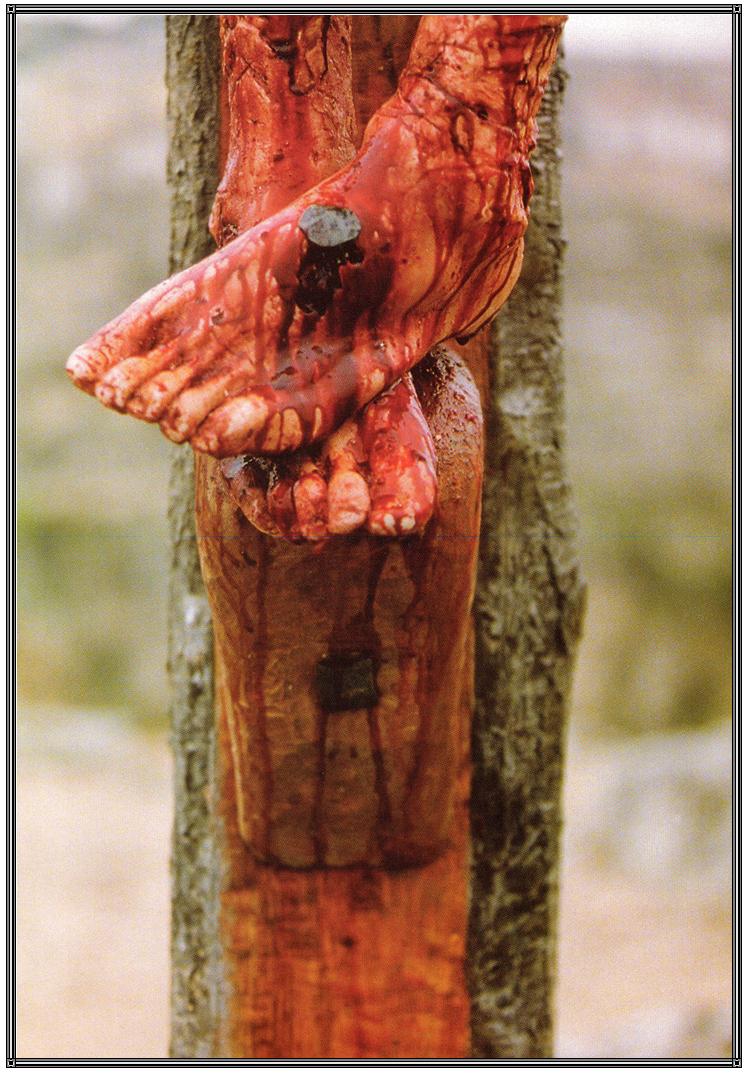 How beautiful are the feet of them that preach the gospel of peace.
Nor do I agree with the idea that this is in some way building oneself around one's brokenness, any more than, say, noting that one is deaf and perhaps participating in deaf culture is building oneself around brokenness; still less do I agree with the (apparent) assertion that there is nothing good to be had out of gay culture. If Israel could plunder the Egyptians and Saint Paul could
take everything thought captive
, if St Thomas could baptize Aristotelianism and St John Paul II could baptize phenomenology, I suggest that we may at the least consider baptizing LGBT culture, without a preliminary circumcision. And, while they haven't put themselves forward for the role, I can certainly think of worse godparents for it than Joshua Gonnerman and Eve Tushnet -- myself, for instance, as the, ah, Magdalene of the group.
Lastly, the assertion that we want a change in Church teaching. That is precisely what we do not want. This again is one of the few things about which we are, so far as I can tell, completely unanimous. It is our acceptance of Church teaching that, on the one side, defines us as a category, however loose the category may be. Lest there be any ambiguity, I have posted on my blog as a constant feature the protestation of faithfulness to the Church's teaching office made by Saint Teresa: In all that I shall say, I submit to what is taught by Our Mother, the holy Roman Church; if there is anything in it contrary to this, it will be without my knowledge. What I am trying to do, and what others like me are also trying to do, is find a way to do justice to our experience as gay people within the context of Catholic teaching, and to find a way to do that which is both comprehensible and winsome to those outside that Catholic context.
Thus far, we have from you a series of repeated claims about us and our beliefs that are incorrect about matter of fact, and in at least one instance your own statement that you're simply not interested in listening to us. If you change your mind about that, then I for one am willing to talk. But until and unless that should happen, I don't propose to waste my energy and time in fruitless endeavors to communicate.
Nevertheless. We are brothers in the eternal Love, and that may yet bear fruit. So I pray and hope, and I conclude with this: