In order for any treatment of Catholic belief to make sense, we must begin with its most fundamental elements. The existence of the world as we know it, the thing that batters us about through our five-windowed senses, does not as a rule require a great deal of argument, unless one is talking to a sophomore philosophy major, and so I shall leave that aside. However, the existence of God -- i.e., of a Supreme Being, both self-existent and in some fashion the cause of all other existence, and in most religions believed to be in some sense a personal being -- does call for demonstration of some type, since most people don't find the existence of God to be self-evident.*
Bertrand Russell, contemporary of C. S. Lewis and author of the famous essay Why I Am Not a Christian, selected the classical cosmological argument or argument from causality for special censure. His rebuttal, I gather, has been taken up since by the New Atheists (Richard Dawkins, Sam Harris, etc.; but not all contemporary atheists fall into this group, such as Camille Paglia.)
Perhaps the simplest and easiest to understand is the argument of the First Cause. (It is maintained that everything we see in this world has a cause, and as you go back in the chain of causes further and further you must come to a First Cause, and to that First Cause you give the name of God.) That argument, I suppose, does not carry much weight nowadays, because, in the first place, cause is not quite what it used to be. The philosophers and the men of science have got going on cause, and it has not anything like the vitality it used to have; but apart from that, you can see that the argument that there must be a First Cause is not one that can have any validity. ... If everything must have a cause, then God must have a cause. If there can be anything without a cause, it may just as well be the world as God, so that there cannot be any validity in that argument. It is exactly of the same nature as the Hindu's view, that the world rested upon an elephant and the elephant upon a tortoise; and when they said "How about the tortoise?" the Indian said, "Suppose we change the subject."
Now, in deference to Mr Russell, I must admit that I'm not altogether clear what "the philosophers and the men of science" were doing about causality at that time, though I venture to suggest that whatever it was, it didn't succeed in eliminating the nature or fact of causes.

But the meat of the argument, of course, lies elsewhere. And it's quite true that, if everything requires a cause, the idea of a First Cause is -- well, in direct contradiction to the claim that everything requires a cause, QED. And not a few would-be apologists, when confronted with this terribly obvious fact, have indeed tried merely to change the subject, often by resorting to
fideism
. I make no secret of the fact that I have very little respect for this kind of philosophical legerdemain, and feel that it borders on dishonesty and intellectual cowardice even at its best.
However, it must be noted that Mr Russell apparently didn't grasp the real nature of the cosmological argument. As stated by St Thomas Aquinas, and maintained by his disciples (among others), the argument is most definitely not that everything has to have a cause; and that is not the form that Russell at first gives the syllogism, even in his own essay. What the argument states is that "everything we see in this world has a cause"; a crucial distinction. The idea is that there are two possible kinds of things: those whose existence is contigent, i.e. calls for some sort of explanation about its origin, and those whose existence is necessary, i.e. a self-existent being or class of beings. The Catholic contention is that the existence of contigent things -- "everything we see in this world" -- requires some necessary being to explain its existence, not that all things must have a cause, which would be a hopelessly self-defeating argument for the reality of God.
In brief, Catholics, and most monotheists, assert that if reality as we know it is to make any sense, there must be a minimum of one necessary being in order to cause contingent things to be.
Now, it's quite true that an Uncaused Cause, while consistent with the Abrahamic notion of the God, is a great deal less specific than the Mosaic thundercloud upon Sinai, the Crucified and Resurrected
Logos
, or the Exalted One who
assumed
Muhammad from al-Aqsa in Jerusalem. However, at the moment, we are dealing only with what the cosmological argument professes to demonstrate: not what it makes no claims of demonstrating, or how much more we were expecting it to demonstrate.
The difficulty about the alternatives proposed by Russell is threefold. To begin with, if we admit that a First Cause is necessary but posit that it is the world as a whole, rather than an independent being who made the world,** what we have actually arrived at is a form of pantheism, rather than atheism proper. This form of pantheism need not be of the specifically Hindu or Daoist type that peoples the universe with a plethora of particular deities, but, if "the whole show" is to be considered a self-existent entity, then it is, to that degree, a god, if an impersonal one. (The catch there is how an impersonal god could bring personal consciousnesses -- that is, ourselves -- into existence, since nothing comes from nothing, and correspondingly no agent can bestow what it does not possess; and if we allow the universe to have purposiveness or mind, then we have arrived again at a personal God, if a pantheistic one.)
A wild PANTHEIST DEITY has appeared!
Another flaw in the argument is precisely in the contingency of the universe and the things in it. The first premise laid down by St Thomas and co. is that all the things we experience in this world are contingent, i.e. that any of them might not have existed and might cease to exist; and if everything is contingent, then nothing would exist, because, given enough time, everything would eventually "go out" -- and then there would be nothing to bring anything back.
Russell's reply was that he saw no reason why there should not be an infinite succession of contingent things, each caused by a predecessor -- things caused by other things, forever. The difficulty with this, I think, is the "
turtles all the way down
" problem:
After a lecture on cosmology and the structure of the solar system, William James was accosted by a little old lady. "Your theory that the sun is the center of the solar system, and that the earth is a ball which rotates around it, has a very convincing ring to it, Mr James, but it's wrong. I've got a better theory," said the little old lady.
"And what is that, madam?" inquired James politely.
"That we live on a crust of earth which is on the back of a giant turtle."
... James decided to gently dissuade his opponent by making her see some of the inadequacies of her position. "If your theory is correct, madam," he asked, "what does this turtle stand on?"
"You're a very clever man, Mr James, and that's a very good question," replied the little old lady, "but I have an answer to it. And it is this: the first turtle stands on the back of a second, far larger, turtle, who stands directly under him."
"But what does this second turtle stand on?" persisted James patiently.
To this the little old lady crowed triumphantly, "It's no use, Mr James -- it's turtles all the way down."
I suppose we can only hope that
Mack
doesn't belch.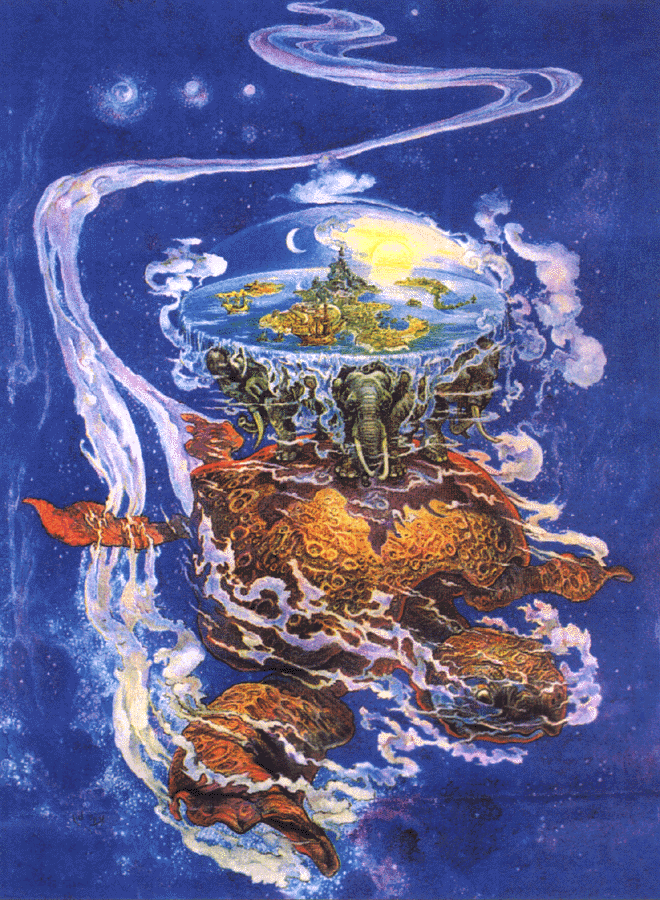 Elephants and turtles both seem pretty strong. I don't see what all the fuss is about.
This, of course, is not disproof. The fact that the human mind (or most human minds) will not accept a "turtles all the way down" explanation of existence, since it does not really explain anything, does not in itself show that this un-splanation is untrue. That said, I don't think I'd want to go up as a surety for it, even if I believed it. The thesis that there is something which necessarily exists, on the other hand, has the merit of being obviously rational (whether false or true), even if we don't see why a necessary being should exist; though, when you come to think of it, asking why a necessary being exists is probably a nonsense question.
Finally, there is the pesky little problem of getting something out of nothing. If the only things that exist are contingent, that is, caused (and thus unnecessary), how can "the whole show" be a necessary or uncaused thing?
I've let myself stray a bit into arguing, rather than merely stating Catholic belief, here. It's hard not to; analyzing things is terribly fun. But I hope this has, at least, clarified the difference between the idea of a First Cause and the idea (or failure of idea) that Russell rightly derided.
*Many people claim to find God's existence self-evident, including some saintly individuals; Bl. John Henry Newman, I believe, said so. I can certainly allow that some people have a natural, mystical gift, by which the reality of God is experienced as an immediate fact, rather than arrived at through reasoning or instruction or both; nonetheless, I do suspect that, when most people say that they consider God's existence self-evident, what they tend actually (if unconsciously) to mean is that they do not wish to argue about it.
**There are a few possible meanings for making the world here; the "emanations" of Neo-Platonism and Gnosticism, though wholly distinct from the Judaeo-Christian concept of creation ex nihilo, are still a consistent interpretation of the cosmological argument's implications.