It is, of course, much easier to demand a prophet than a priest; and it is far, far easier to become a pseudo-prophet than a pseudo-priest. I will not say that almost anyone can be a priest; it would not be true for the priesthood is a vocation. But certainly almost anyone can imagine himself to be a prophet.
—
Charles Williams,
The Forgiveness of Sins
I make no attempt to excuse the feelings which awoke in me when I heard the unhuman sound addressing my friend and my friend answering it in the unhuman language. They are, in fact, inexcusable; but if you think they are improbable at such a juncture, I must tell you plainly that you have read neither human history nor your own heart to much effect. They were feelings of resentment, horror, and jealousy. It was in my mind to shout out, 'Leave your familiar alone, you damned magician, and attend to Me.'
It's hard to believe it's only been Lent for a week. Maybe I noticed Shrovetide more keenly this year, maybe it's because I adopted a relatively easy discipline this year,
1
I don't know. My mind has certainly been elsewhere—one of my favorite things about a fixed liturgy is that, for somebody like me who has a short attention span and a 'rich inner life,' it's much easier to pick up the thread of devotion if the thread is still there when I suddenly realize I haven't been attending for the last ten minutes.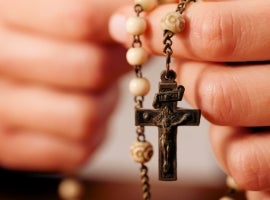 Unfortunately, the
elsewhere
has been me: my sinfulness, my needs, my hurt. One has to attend to those things; part of loving your neighbor as yourself is appropriate self-love, i.e. self-
love
rather than self-indulgence, loving yourself because you are a self made in God's image, impartially. Save, perhaps, that as the steward of yourself, you have the liberty of sacrificing pleasures and other goods on your own behalf, whereas sacrificing other people's goods is against 'the courtesy of Deep Heaven.'
2
But mine has not, I think, been a wholesome self-love. (I think a lot of people assume it must be because I'm nice to people, but sadly, terrestrial good manners are pretty compatible with a reserved yet raging egotism.)
My friend Joey and I seem, as a rule, to wander in similar deserts, and we had this exchange earlier via text:
J: I just want to be right with God, but now it seems like the only way to do that is going to be hurting David, and I'm not ready to do that either.
G: What do you feel/think being right with God would consist in?
J: […] I think being right with God would consist in at least attempting not to sin […] Becauuuusssse I know He still loves me but how can I possibly be a man of any integrity when I don't even make a pretense of following my own principles?
G: Well, you have the integrity of refusing to make a pretense. That is not something; that's everything—"without are the dogs and sorcerers and idolators and whoever loves and practices a lie." […]
J: Maybe. I just feel so much on the Wrong Side Of Things. Sort of shut out. … I've always thought of myself as the kind of person who wouldn't make this sort of compromise. So maybe what's bothering me is that that self image is not accurate.
G: That can be a terribly painful and humbling experience.
J: Yeah. I mean that's not a bad thing to happen of course
G: […] The schism between who you want to be and who you perceive yourself to be.
J: Hm. Yeah. When I broke up with Adam, I kind of made it about Doing The Right Thing. But it was also, or maybe even mostly, about preserving my self image.
'You must learn,' St Teresa of Ávila said, 'to bear serenely for God's sake the trial of being displeasing to yourself.'
I'm cautiously hopeful that God is using my straying to break the idol of dignity in me. Hopeful, because pride attacks us on our strong points rather than our weak ones, which is why self-righteous virtue is among the most hideous and nigh-incurable sins. Cautious, because it is so, so easy to use that line of thinking as a justification for sin.
Pride is certainly my most pervasive and characteristic vice, more even than fornication or self-pity. People don't always notice it, because my pride is of th
e highly ethical sort that motivated the Pharisees. It's pride in justice, obedience, insight, even in generosity and gentleness. Sometimes I act on those virtues for God. But often enough, I act on them for my self-image, the great golden idol in the center of my soul, which may be pleasanter to be around than some idols but is not on that account any less the craftsmanship of hell.
Ideally, I suppose, I'd be pursuing God in the midst of weakness. Acknowledging my failures and flaws, but getting up and beginning again. But I'm so tired. It isn't so much that it's embarrassing to go to Confession over and over (I don't think); but it seems like a slur against my own intelligence to profess a firm purpose of amendment when I don't, at a heart level, believe that that amendment is possible to me. In brief, I don't know how I'm supposed to
mean
to do something I don't think I'm
able
to do.
I delight in the law of God after the inward man: but I see another law at work in my members
—except personally I don't even delight in the law of God in the inward man. Don't want to. Don't know how to.
And when I say it isn't possible to me, I don't mean that it isn't possible to God. He can give me whatever grace He pleases at any moment. But He doesn't seem to be giving me the grace of chastity, or of the desire for chastity, even. Maybe that's my fault; or maybe it would strengthen the interior idol; I don't know.
The most I can do is (so to speak) keep repeating the Creed. I can't white-knuckle my way through my whole life, but I can white-knuckle my way through that. And most of the time, I don't even have to white-knuckle it. If I stay here and wait, I don't know what He'll do, but He will do something.
1
I'm reading through the Gospel of Luke, according to this forty day schema. Of the four, it's the one I know least well (John I know best, then Matthew and then Mark), so I thought it'd be wise to spend some time with it.
2
A phrase borrowed from
That Hideous Strength
by C. S. Lewis, spoken by Elwin Ransom, a man who has been to what we call
outer space
and what he knows, by experience, to be full of the splendors of angels. 'This is the courtesy of Deep Heaven: that when you mean well, He always takes you to have meant better than you knew. It will not be enough for always. He is very jealous. He will have you for no one but Himself in the end. But for tonight, it is enough.'