This is my final installation in the Raw Tact series. The chief purpose of this series, throughout, has been to facilitate gay-Christian dialogue. I admit that I have developed an aversion to the word "dialogue"; it seems like it's become one of those Christian-hipster catchwords.
I'm trying to live an emergent missional paradigm that imbues ancient-future values into an intentional community.
On the other hand, it's probably a little rich of me to be annoyed by other Christian hipsters. (Or maybe it's the crowning jewel of my Christian hipsterdom.) In any case, dialogue seems like the most serviceable word.
For it is dialogue, rather than dogmatics, that I think useful and desirable here. Now, there can (in my view) be no meaningful dialogue between people without defined beliefs, if only because in that case they have nothing to discuss; and dialogue is, as the word suggests, bidirectional* -- I want the gay community to listen to the Church quite as much as I want the Church to listen to the gay community. But the point is that I feel strongly that the Christian approach to queer issues has, with whatever good intentions, been seriously misguided, from the Sexual Revolution up to now. And it is especially gay Christians (I Tiresias, throbbing between two lives**) who have to pay for that.
I've stated before my affirmation of Catholic teaching, on this subject as on all, which follows from my belief in the Church's infallibility. But that applies to her teaching, not to its application in pastoral practice, and certainly not to the attitudes and behavior of Catholics in general, let alone of Christians in general.
There are many particular mistakes in the Christian (and specifically Catholic) approach to this that I could point to: the dismal failure of the ex-gay experiment, itself largely premised on the profounder mistake of idolizing marriage, to say nothing of homophobia; the damaging and unjust conflation of homosexuality with pedophilia; the nightmarish fact that Christian parents have been known to cold-shoulder, brutalize, and even expel children who admit to same-sex feelings and experiences. But I think that there is a more fundamental error underlying the wrong-headed tactics: one that is much harder to correct and requires in amendment a great deal more humility and love than apologizing for a specific offense.
That fundamental error is that of not listening to the gay community.
Surprisingly, no one's mind was changed after this exchange.
The reasons for this are legion, including some that have an appearance of great wisdom; as that the Church must be wary of the influence of the World. That is quite true. But the World does not only try to influence the Church to dilute her sexual mores and her authority to define them; I think that, in the American churches particularly, it has infected her with its view of success and of "winning" in controversies. Far be it from me to say that, e.g., political stances are unimportant, whether in themselves or as instantiations of religious freedom; but does anyone seriously believe that one single soul would be won by the passage of any law whatsoever? If they do, why do they think that, when the very Torah was powerless to save anybody? If not, why do so many believers give the impression of caring far more about laws than about the people with whom those laws are concerned?
I'd argue for the following basic points, in order, as Christians, to approach gay-Christian dialogue with intelligence and love:
1. Keep always in mind Martin Luther King's powerful saying, "Whom you would change you must first love, and they must know that you love them." And the thing about love is that it isn't conditional. It isn't a matter of loving people
because
that will change them.*** No change will happen without love, precisely because real love makes space for authentic change
by not demanding it
, by being present and open to the beloved simply because the beloved is there.
2. Listen before you speak. If your beliefs are settled, you can talk about them any time; they're not going to run away. If your beliefs are not settled, not listening to the group of people whom those beliefs chiefly concern is, well, either foolish or bigoted. By not listening, you're setting yourself up to be powerless to communicate -- you have no frame of reference for what the other person thinks or cares about, or for what language will actually convey your real meaning.
3. Learn to distinguish between being right and knowing what you're talking about. In my experience very few Christians know what they're talking about when it comes to LGBT issues, with the mostly consistent exception of LGBT Christians ourselves (and some of us leave something to be desired). A given moral stance about behavior is one thing. To suppose, based on such a moral stance, that you have the faintest idea what it is like to be one of us -- that is where the clumsiness and offense typically come in, especially when that actual gap in knowledge is filled by assumptions derived from a mixture of media portrayals and aging stereotypes that were shallow and crass even in their own day.
Note the tiny mustache, the age-old visual Esperanto for "creepy pervert."
4. Drop the language war. If "gay" is good enough for the Pope, it's good enough for the rest of us. The Gay Agenda did not persuade people because it stopped using the phrase "same-sex attracted." No one cares except you, and it's making you look hysterical and stupid.**** Considering the disadvantage we're at in proclaiming both Christian love and Christian truth to the culture at large, I don't think we can afford either the energy or the bad rap that this costs us.
5. Drop the social war. I am not saying here that the Church's doctrine does not impinge upon politics or has no right to do so; but I'm not talking here about politics. I'm talking about everyday life. A lot of Catholics seem to think that by doing normal things with LGBT people --
like having a gay couple over for Thanksgiving dinner
-- they're somehow lending their approval to a sinful lifestyle. Do you apply that same rubric to literally any other group of people? I damn well hope not. Christ invites us to love as we have been loved, and our sins and shortcomings (many of them unrepented and even unacknowledged) are far more visible to His love than anybody else's are to ours -- yet here He is, in the midst of our messy lives. And if, by being involved in the lives of gay people, we find ourselves accused of being gluttonous men and winebibbers, friends of tax collectors and sinners ... well, I guess we must be wrong then, better cut that out right now.
It may seem strange to some readers that I spend so much more time talking to, and rebuking, fellow Christians, than I do trying to evangelize fellow gays. There are a lot of reasons for that, one of them being that I'm not stupid.
Fellow gays who are already believers are, well, already believers; and those who aren't, if they read a Christian blog at all, are not likely to be persuaded by a stranger telling them how they ought to conduct their lives, whether he's also gay or not. If I were someone they actually knew, then I would try to live as a witness; but that primarily means displaying love, not proselytizing; and considering my life, I don't know that I dare proselytize anyway. I'm narcissistic like the next guy, but I'm not quite as narcissistic as that.
I've never even attended the VMAs, for one thing.
But there's more to it than that. Christians have a unique calling, and a higher standard of conduct. That the sons and daughters of this age should live as if they were not intimately acquainted with the love of God, that they should prize success and winning a
kulturkampf
, that they should treat certain groups of people as their enemies, all this is comprehensible. For Christians to do that, when we consider the supernatural Life to which we are called, is squalid and pathetic. Our battle is not against flesh and blood, and our victories are not political or social in character. There is no human being, living or dead, whom we may legitimately hate, even if we may legitimately oppose them in one way or another. Sit back for a moment, and contemplate the fact that
Jesus washed the feet of Judas Iscariot, too
.
Since childhood, I have seen the interaction between gays and Christians take the form of a culture war. Even as a child, this struck me as utterly nonsensical. Shouldn't we have been
expecting
to be at a disadvantage, to be shoved aside, to be socially -- perhaps, one day, politically -- disfranchised? Why the shock and outrage? Why not, if we are so convinced we are being persecuted, put the Beatitude that blesses the persecuted into practice? Why not imitate the Apostles,
who rejoiced that they had been found worthy to suffer for the Name
? It's not like God can't take care of Himself, anyway.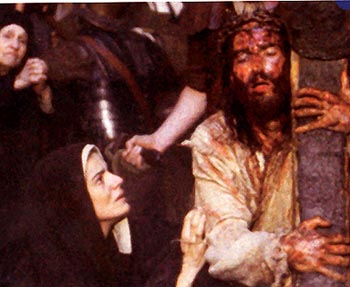 Though He does consistently choose not to.
But. It does take two to tango, and the incredible butthurt that characterizes gay-Christian dialogue is not only the fault of traditional Christians.
I would therefore close on a note of equal appeal to my queer sisters and brothers. I would, first of all, beg forgiveness for our errors and sins, and ask you to believe that, though not all, yet many of those errors and sins were committed out of ignorance and clumsiness rather than spite. I would ask that we be judged individually and on our own merits, not based on your experiences of other people, or worse, what you assume or imagine might well be the case about us. If you revolt at the injustice of other people treating you that way, you must be just as careful not to do it to others; that is only right. I would ask that you take care to understand exactly what we are saying, and to take it from us, rather than relying on hearsay and reacting in anger. I would remind you that some of us, including some traditionalists, are gay ourselves, and are just as hurt by being lumped together with deranged homophobic fanatics as you would be (perhaps, have been) by being lumped together with criminals and lunatics. In a word, I would repeat that "Whom you would change you must first love, and they must know that you love them."
*Heh.
**T. S. Eliot, The Waste Land, III.218.
***It should be unnecessary to clarify this (but unfortunately it is necessary): when I speak of "change" I am not taking about reorientation, direct or indirect.
****I'm not saying that language is unimportant or that it doesn't shape how we think; I studied Classics so that I could read the New Testament in the original language. But the particular fight over the word "gay," which is now common parlance to both sides of the A/B divide, and doesn't in fact have any specific philosophical connotations (even if it used to), has become so pointless and pedantic that the only practical effect it has is of making the people who conduct the fight look like homophobes, and, in Louis C. K.'s sense, faggy.