ATTENTION, THE INTERNET. THIS IS MY ONE HUNDREDTH POST ON MUDBLOOD CATHOLIC.
Though I suppose Pinky Pie blowing a noisemaker would've been more appropriate.
But whatever, Fluttershy is my favorite and always will be. #bronies4eva
Now that I've mentally scarred you by coming out as something even weirder than a gay anarchist Catholic, on to my actual topic.
A commenter on
my latest Raw Tact post
posed me a very significant question. I've discussed before my failures vis-a-vis chastity, though I've tried not to bore anyone with the gory details (to be more honest, I've been scared to embarrass myself and maybe gross out a lot of my readership; plus, it just doesn't seem necessary). His remarks ran, in part, as follows:
You say, "What I am trying to do at the moment is see if I can find my way into some sort of self-restructuring." I think this is good! I'd just be careful, and forgive me for being a bit skeptical.
Can you identify for us ... any concrete ways in which you are actually trying to restructure, any sort of logic regarding why you hope certain causes would lead to certain effects, or any experimentation you are implementing with new approaches (this might require spiritual risk taking!) to see just what sort of effects occur?
Because if your attempt at restructuring is just continuing to try to "enforce the law" by sheer repressive power, and the reason it is restructuring, not war, is merely because you hope some structural transformation will suddenly occur out of nowhere ... (perhaps, you imagine, God will give it to you like a miracle as a result of your Semi-Pelagian attempt?) ... I have to predict with moral certitude that this will not work, and indeed it seems rather disingenuous to call this a restructuring ... rather than a repressive approach.
I agree with this wholeheartedly. There are, in my view, only a few things as dangerous and destructive as a spirituality that has "zeal without knowledge," whether it lacks knowledge through naivety, carelessness, having been deceived, or deliberate self-blinding.
Lack of zeal is not a problem with anyone in this picture.
So how exactly does one try to be chaste without merely repressing? I used to think that as long as I acknowledged that I felt these feelings, I wasn't repressing. But even so, my only recourse at the time was to try and steel myself against doing it (whatever constituted "it" at that moment), and, if I lost that fight, going to Confession later. And that wasn't wrong. But it also wasn't helpful, fundamentally, for the same reason that mere indulgence doesn't get rid of temptation: neither mere refusal nor mere assent deals with the root of the matter.
And what is the root of the matter? ... Oy.
The trouble about discussing sexuality -- and this is not peculiar to gay sexuality -- is that it involves you in nearly everything. There's a sense in which sexuality is the crossroads of our being: every level of our self is involved in it at once. The biological elements are the ones we're perhaps most apt to think of; but it even the psychological elements are more complex than I think we give them credit for, and the ties between sexuality and the spirit are profound indeed. When we think, not only of the sacramentality of marriage
as discussed in the New Testament
, but of the fact that it is from sexuality that new life comes, so that sexuality is one of the chief modes in which we bear the image of God* ... well, we're in deep waters, for bad or good.
Being gay doesn't make any of this less true. That's part of what makes it so hard (you in the back, quit giggling). The common Catholic tactic of implying that giving up sex shouldn't be such a big deal to someone who isn't selfishly hedonistic, betrays a woefully shallow outlook on sex and sexuality. Yes, there are other modes of experiencing and expressing love; yes, we don't "need" sex the way we need food and drink; that isn't the point. The need to love and be loved as a specifically incarnate being, the need to give of oneself, and the need to create, are real needs of the human person; and erotic love -- truly or falsely -- holds out the promise of all three. (Remember, the fact that gay sex won't in fact result in children doesn't make the psychological significance of our sex drives any different.) Just saying "Nah" is not an adequate reply, and even less so when telling somebody else that should be their reaction.
"We literally made this. But that's boring. Have you watched any good TV lately?"
So, as a gay Christian, what am I doing or trying, other than saying "Nah"?
Well, speaking of boring, prayer and the sacraments are prerequisites for any serious attempt at the spiritual life. God is remarkably prosaic. His own earthly life was so prosaic that the Gospel writers had almost nothing to tell of it: some neat things around when He was born (which was surely as dirty and messy an affair as any birth in first-century Palestine, and more so from taking place in a reeking animals' stall), a curious little episode when He was twelve, and nothing else between infancy and the age of thirty. Likewise, the practice of prayer and taking part in the sacraments have a very unspectacular appearance. But they are of the essence. Prayer is our lungs; the Eucharist is our heart; Confession is our immune system.
Hey, the Word made flesh and dwelling among us is important. Who knew.
However, these are not enough by themselves; not that God doesn't dispense great graces to us in them, but that wrapping those graces in a napkin and burying them, instead of investing them, will not earn us any profit to bring back to Him.** Going back to the bodily analogy, God provides all the organs of the body, as well as the food, but you still have to eat the food or it won't nourish you.
Now, I'm going to say something all of my gay readers who've made any attempt at the traditional lifestyle, whether as celibates or as ex-gays, have heard till they're sick of it: you need solid friendships. But I have to qualify that in two ways.
First of all, a lot of the authors I've read seem to imply that, once you have some solid friendships under your belt, you stop being lonely and don't want a partner any more. To that, I have to respectfully cry bullshit. Loneliness is a feature of all human life, and, yes, being the single one in a group of predominantly married friends can exacerbate that instead of helping. You need friends because intimate friendship is something that every person needs to be a healthy person, not because they act collectively as some kind of surrogate spouse. (For that matter, spouses seeking emotional support exclusively from each other is a great way to ruin a marriage; but that's another topic.) The reason this universal need comes up at all is that friendship is weirdly scarce in our culture, and that cultural lack, which makes marriages harder than they have to be, can make celibacy borderline impossible.
Second, I'm not saying, like a lot of ex-gay theorists, that these friendships are how you gain male (or female) affirmation and learn your gender role through imitating worthy models and all that. I mean, if you feel the need for that, fine; I certainly have; and I'm not above imitating friends that I think are worthy of imitation
cough
JoeyPrever
cough
. But that applies to both sexes
cough
MelindaSelmys
cough
, and anyway, friendship is not primarily about finding role models. That's what role models are for, actually.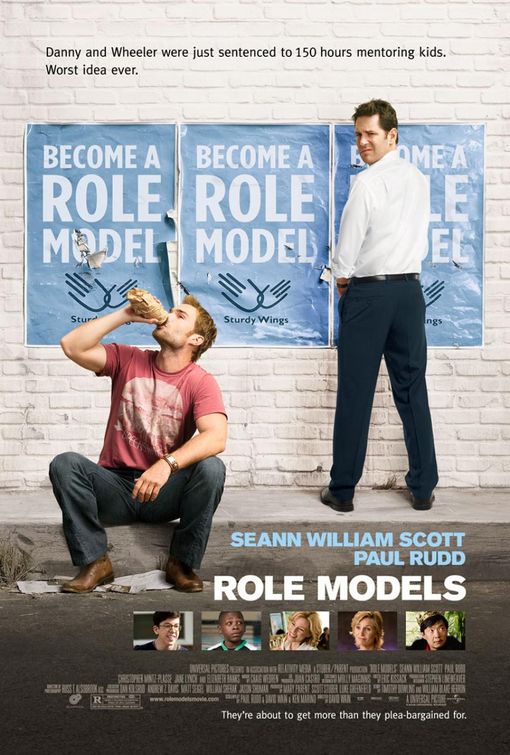 Um ... not quite what I meant.
So, prayer, sacraments, friendship. But I was doing all that last time, and, as my priestly interlocutor pointed out, old methods do not bring about new results. Anything else?
I haven't got a lot, honestly. I admit I'm partly hoping that I've grown enough -- and that maybe my sex drive has calmed down enough -- that I can do without a boyfriend now. I don't know; but it seems like the only way to find out is to give it a try. At this point, I don't feel I've been trying long enough to have a confident answer.
A lot of people would jump in here and argue that powering through is absolutely the way to go; just keep trying, and God will give the grace to succeed.
I've written about that mindset before
, and, without being too harsh, I can't help feeling that it smacks of Job's comforters. God gives everyone the grace necessary to come to Him -- not necessarily the grace to be perfect. Only one person was ever immaculately conceived; and Jesus did have the foresight to institute the sacrament of Confession.
"Father, I wore those weird shoes with the individual toes."
"This problem is beyond me, my child."
However, with those caveats in place, I would bring up creativity. I take creativity to be one of our fundamental human impulses, of which our sex drive is a biological expression. Now, the fact that our sex drives happen to be misdirected doesn't mean our creativity will necessarily be distorted, and, when we consider the massive amount of magnificent art from homosexual artists, I think we can safely say that it isn't true in practice, either. My own opinion is that every celibate, gay or not, needs some type of creative outlet. For a straight, married person, sex can be at least part of the outlet for the creative urge; for someone who's trying to be celibate, that's not possible, and so the whole creative impulse must, if possible, be given expression in a non-sexual way. A repressed desire, especially one linked to so many levels of our being at once, will manifest itself sooner or later, and if it is refused legitimate satisfactions it will find others.
But sexuality involves more than just the urge to make; it also involves the more specific urge to beget -- to be a mother or a father. The fight of the LGBT movement for adoption rights is not just about making a political point about equality; I think it is linked to this far deeper desire.
And begetting? -- for me specifically, being a father, somehow? How should that need be satisfied?
I'm not sure. There is such a thing as spiritual fatherhood, of course; priests, among others, have that. St. Paul speaks of having fathered St. Timothy in the Lord, and I don't think he means exclusively having been the one to baptize him. But what spiritual fatherhood is, especially outside a priestly context, I just don't know. I suspect that without it, I probably won't be able to manage chastity, long term; or if by some chance I do, it'll have a partially empty feeling -- as of spending a great deal of energy to accomplish something that was challenging but not, in itself, very important. But I simply don't know. I haven't found out yet what the solution is, or what the problem will be like if it goes unsolved.
*I think I first ran into this point in an essay of Dorothy Sayers': it is a remarkable fact that if you look at the first account of creation, the only salient characteristic of God that we are told about before being told that we are made in His image, is that He makes things. We do not make out of nothing like He does -- all our creation is organization and reorganization of things that already existed (at least in terms of what it is made of) -- yet we too are makers; and not only of things that are useful. We often make for the sheer delight of making. That sex, which is the means of begetting a new life, should therefore be among the highest of pleasures is therefore deeply consonant with the Judeo-Christian doctrine of creation, and perhaps even more reflective of the specifically Christian doctrine of the begetting of the Son as the perfect expression of the love and being of the Father. But all this is way too much to deal with in a footnote.
**So to speak, since of course it is all His, both in principle and in fact -- He has a right to everything, and everything is in fact sustained in existence by His will. But I am the bolder to speak this way on the grounds that He did Himself.